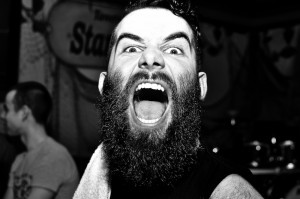 I was born on May 8, 1992 in Sosnowiec, Poland.
My adventure with music I started from rap music, but when on my horizon appeared the metal music I
wanted to learn play a musical instrument.
My friends offered me the drums, but my mom convinced me that I became interested in electric guitar.
When one of the bands in which I played, appeared drummer and rehearsal room was located in my house I started taking sticks in my hands and trying to play basic beats. After eight years of learning to play the guitar, playing in several bands, I was offered to play neo death metal band called Quietplace, where I learned the basics of playing.
When I parted with this music band, I had lot of time to exercises at home.
Videos on You Tube, interviews with drummers and music which I love more than anything, allowed me to train all skills that I have for the present day.
The obvious thing is desire to have more skill and all the time I try to go forward head up. When I joined the metal core band Part of the Beginning in January 2013 my life changed dramatically, and so far I feel that in this composition, with the music which we create, we are able to achieve a lot in Polish and world music.
July 10 is the official launch of our first EP "Per Aspera Ad Astra", which as far as financial possibilities recorded in Katowice, Poland.
In March 2015, I joined to heavy metal band called Hurrockaine and right now we are planining shows around the Poland and central Europe.
After couple of weeks working on Part of the Beginning`s new EP, we released music video for Gaia.
October 10, 2015 I present myself in semi final of Young Drum Hero         contest, the biggest drum contest for young drummers in Poland.
At the end of 2016 I moved to Krakow and started working with Mandragore – trash/death metal band. Unfortunately, we didn't manage to play gigs or release any CD.
In December 2017, I decided to leave Mandragore and started to play with Mind Affliction. We're focusing on new material and preparing to Polish tour.